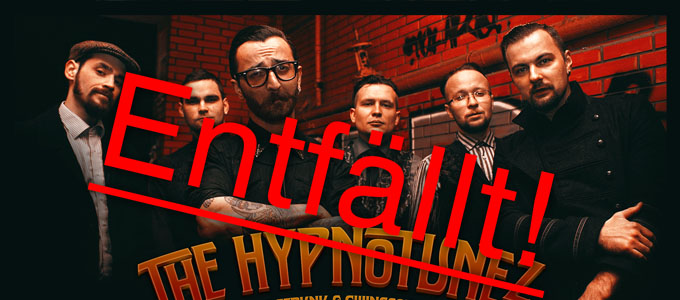 TOURABSAGE!!! The HYPNOTUNEZ (Ukraine) // Support KILLING AUGUSTUS (Augsburg)
shout-swing swingcore jazzpunk punk-rock garage progressive swing jazz punk
Ballonfabrik
Am 8.03.2023 haben wir folgende ABSAGE erhalten - VVK Tickets werden erstattet...
Hello everyone, we are The Hypnotunez jazz-punk and swingcore band from Ukraine
Today is March 8th, yesterday we went on tour and were on our way to Europe to see you. However, we have been waiting at the border with Poland for over 20 hours now. Due to recent events surrounding the Ministry of Culture Міністерство культури та інформаційної політики України and so-called "artists" Андрій Щегель , they have suspended the ability for artists and musicians to travel abroad, announcing certain new changes and rules that no one knows about, without informing the applicants. It is impossible to reach out and find this information from the department or network.
We called from secretaries to ministers, from the head of the military administration to the general consuls of the countries where we have to play. Over the past two days, they "knocked on every possible doors..."
We are very grateful for the dozens of calls we have received, the open hearts and willingness to help us in this difficult and unknown moment. We are in a buffer zone when there is no way back or forward. Damn war...
With great sorrow, we must announce that we are returning home for now. Unfortunately, we are powerless. It no longer depends on us. Everyone is throwing up their hands! We have put in a lot of effort, time, agreements, and money for this tour to happen...
We thank the booker, promoters, organizers, our fans, clubs, Ukrainians, and everyone involved.
We are not giving up! And we continue to fight!
Thank you
The Hypnotunez Crew
Ein wahrer Angriff auf die Ohren , voll Klang und positiver Energie direkt aus der Ukraine. The Hypnotunez bringen eine enorme Konzert-Energie auf die Bühne und präsentieren eine makellose Kombination aus Swing, Jazz und anderen Elementen im Retro-Stil, die durch wilde Punkrock-Power und Spontanität gekennzeichnet sind. In Klassischer Big-Band-Besetzung mit Kontrabass, Posaune oder Baritonsaxophon, das mit "schmutzigem" Underground-Sound verbunden ist, bringen die The Hypnotunez jeden sofort zum Tanzen.
https://www.facebook.com/THEHYPNOTUNEZ/
Killing Augustus