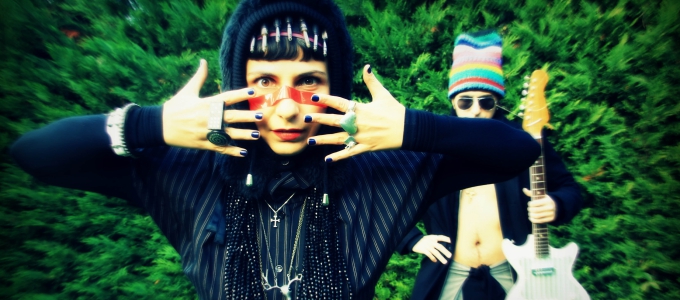 Wattican Punk Ballet
psychedelic electronic freak punk rock

City Club // Start 21.30 // 10 Euro
Wattican Punk Ballet is an Armenian freak dance punk duo residing in Moscow and Budapest. The band comprises brother and sister, Karen and Gaya Arutyunyan, also founding members of the legendary Armenian psychedelic rock band Deti Picasso. Their music features the melding of psychedelic rock, dance punk, freak pop influences and almost theatrical stage tricks. Gaya and Karen explore the limits of composing and creativity in terms of the duo format. The band's melange of raw power, funky disco beats and Caucasian influences elevate in the elemental energy of their live performances. Almost in every track they change instruments, using guitars, drums, keyboards, loops and percussion and making a very diverse and dynamic show.
Gaya and Karen have performed with a wide variety of musicians, including Alex Hacke (Einsturzende Neubauten), Bobby McFerrin, Tony Levin, Nikola Sekulovic (Laibach), Jason Webley, Masfel, Zdob si Zdub, Schtimm, Vladimir Volkov, Istvan Grencso, etc. They played as support act for
Depeche Mode, Massive Attack, The Verve, etc. Their projects have been internationally acclaimed for the impact they had on the Armenian and Russian independent rock scene since 2000. As members of Deti Picasso they have played at festivals and concert venues in more than 20 European countries:
Armenia, Austria, Belgium, Croatia, Czech Rep., Estonia, Finland, France, Germany, Hungary, Italy, Luxemburg, Netherlands, Norway, Portugal, Russia, Serbia, Slovakia, Slovenia, United Kingdom (UK), Ukraine, etc.
https://www.facebook.com/watticanpunkballet/