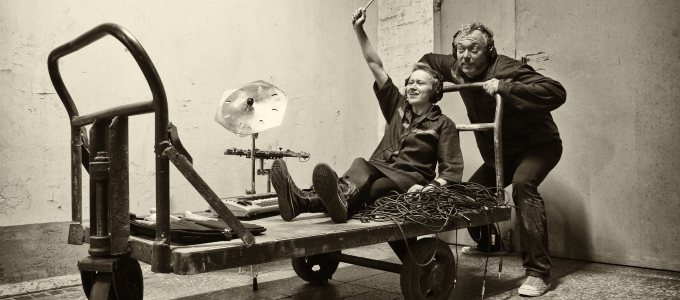 Razmotchiki Katushek (Rus/NL)
industrial electro
NeuRuTics (DE)
Die ACOUSTIC-RUSSIAN-BEAT-BAND aus Tübingen, Pforzheim und St. Petersburg

Ballonfabrik // 21.00 // VVK 13.-, AK 14.-
VVK: ttps://e-vvk.de/eshop.php?MainCat=15&SubCat=87&ProdID=1575
RAZMOTCHIKI KATUSHEK is an industrial electro duo, conceived and nurtured by two seasoned masters of the experimental scene: Ekaterina Fedorova (Iva Nova, ZGA, FIGS) and Remko Muermans (ex-ZEA, Holland). For several years they have been meticulously assembling and connecting the conceptual forms of electronics and industrial into an organic symbiosis, presenting the audience with a deeply original product at the intersection of these two worlds of music. These two veterans of the stage will immerse you in a balmy world of analogue effects, live and electronic rhythm, domestic noise and the positive constructivism of soothing factory sounds.
Ekaterina Fedorova – drums, samples, noise objects
Remko Muermans – noise effects, electronics, samples

https://razmotchiki.bandcamp.com/releases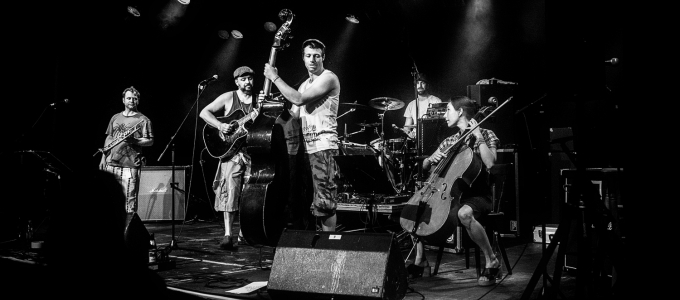 Der aus St. Petersburg stammende Frontman Vadim Averianov lebt seit 20 Jahren in Deutschland, textet aber nach wie vor in russischer Sprache, da sich diese mit ihrer riesigen Bandbreite an Rhythmus und Dynamik angenehm vom gewohnten Deutschen oder Englischen in der Musik unterscheidet.
Auch wer die Metaphern seiner russischen Texte nicht versteht erlebt die Kraft ihrer lyrischen Melancholie und den ungestümen Ausdruck.
Die fünf akustischen Instrumente (Gitarre, Kontrabass, Cello, Percussions und neuerdings auch Trompete) passen durch ihre variable Lautstärke in unterschiedlichstes Ambiente, von der Eckkneipe bis in die Konzertsäle.
Das Ziel ist dabei, durch die akkustischen Instrumente einen trockenen treibenden Sound ohne viele Schnörkel zu kreieren. Was die Lieder trägt, sind die Melodien des Cellos und des Sängers.
http://www.neurutics.de

https://www.facebook.com/NeuRuTics-202159729795525/